On the 5th of June 2020, World Environment Day, the citizens' platforms 2020 Rebelión por el Clima and Alianza por el Clima –two platforms in which hundreds of civil society organisations are included, from environmental and international cooperation organisations to trade unions and agricultural organizations– organised several decentralised actions throughout the territory of the Spanish State. These actions aimed to demand from the institutions a fair solution, socially and environmentally, to the health crisis caused by Covid-19.
In Barcelona, several entities carried out a demonstration in front of the Borsa de Barcelona building, with the slogan "La borsa o la vida" ("The Stock Exchange or Life"), to highlight the urgency of transforming a financial system that only prioritises economic benefits, at the cost of exploiting and abusing people and resources worldwide. We collectively demand an economy that puts people and life at the centre.
The action involved the creation of a green heart, made up of different signs, on which one could read messages addressed to institutions and companies. Due to the current health situation and in the interest of guaranteeing minimal risk, prevention measures were arranged, such as limiting the number of people attending the event and delimiting the spaces to maintain the safety distance between attendees.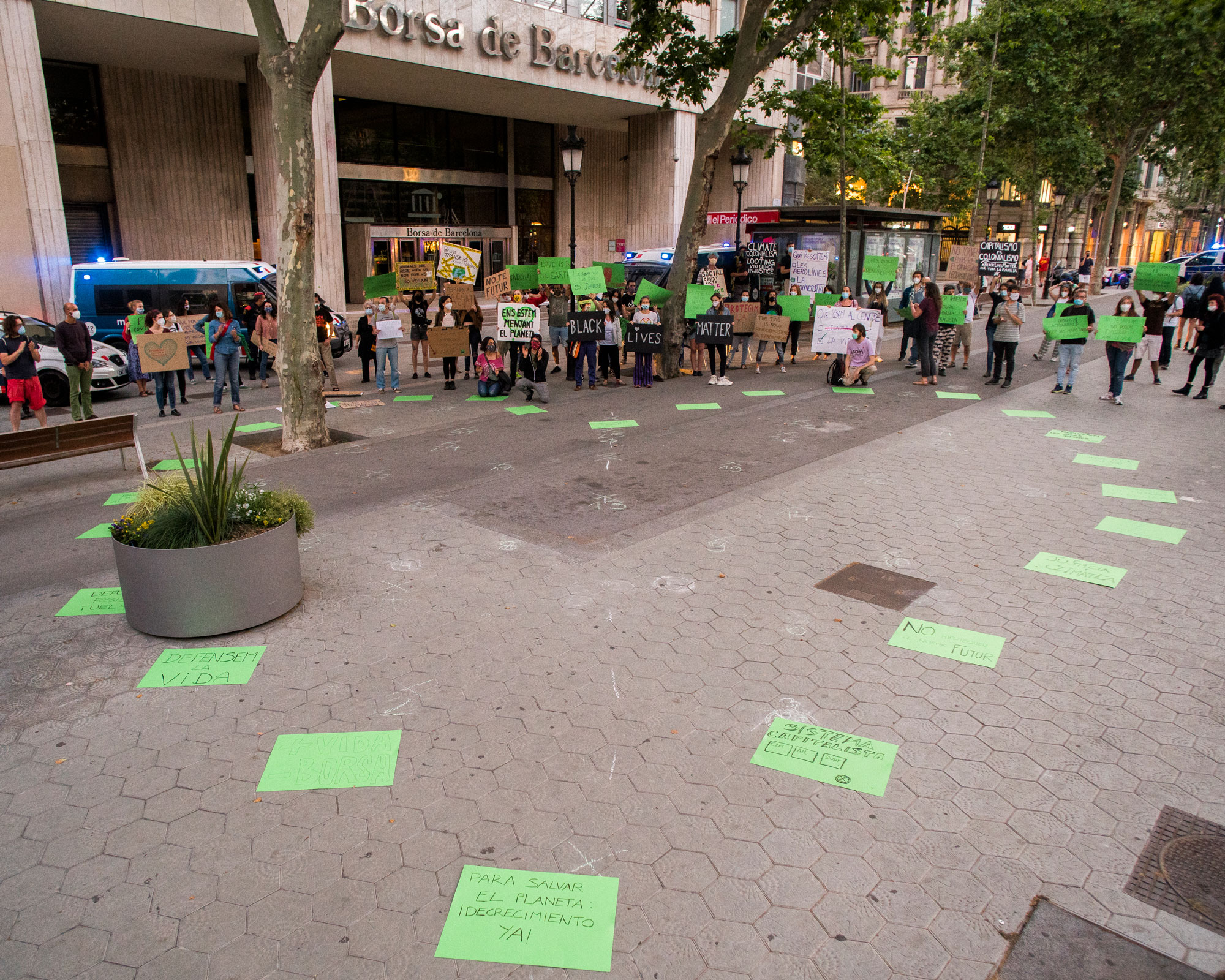 The health and economic crisis generated by the coronavirus has highlighted all the contradictions in the prevailing social and economic system, as well as the type of drastic measures that can be taken in the face of a global challenge such as Covid-19 or the ecological crisis, with much larger effects. On the occasion of the World Environment Day, the climate movements have joined many other social organizations to make it clear that the way out of the crisis, to be fair, has to be able to both stop the increase in inequality and the increase in global temperature and the expulsion of people from their neighborhoods, health and other public services.
Read more about why we should return to the streets here [in Spanish].
Read other articles from XR Barcelona here.
#TransformaciónJusta